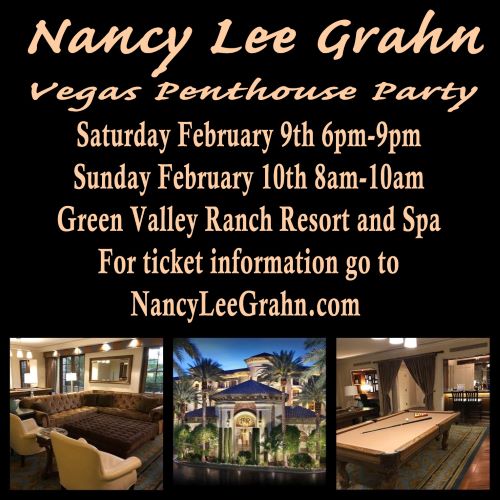 Las Vegas – February 9 & 10 2019!
Join Nancy in the Penthouse suite at the fabulous Green Valley Ranch for food, drinks and lots of fun! Green Valley Ranch is located in Henderson, NV just 15 minutes off the strip and provides shuttle transportation to/from the strip and the airport.
Saturday, February 9th from 6pm – 9pm – tickets $190
Sunday, February 10th from 8am – 10am – tickets $125
Ticket to both events $250
Ticket includes food, beverages (alcoholic and non), group Q&A and plenty of personal time with Nancy to just hang out in the penthouse, talk, take pictures and get autographs.
There is an $8 service fee  when using PayPal. Please be sure to include the names of all guests you are purchasing tickets for and your best email and phone number for event details as the event gets closer.
If you would like to pay by check or money order, email NancyLeeGrahnEvents@gmail.com to reserve your tickets and for mailing instructions.
Space is limited. Don't miss out on the fun! Any questions, please email NancyLeeGrahnEvents@gmail.com
No refunds.