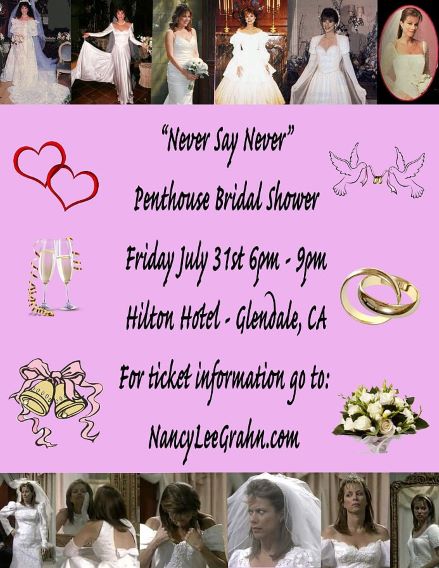 Penthouse Bridal Shower – SOLD OUT – email NancyLeeGrahnEvents@gmail.com to be added to the waitlist
Join Nancy for a bridal shower event in the Penthouse Suite at the Hilton Hotel in Glendale, CA
Friday July 31st from 6 pm – 9 pm
Tickets are $125 per person. Each ticket includes food, drinks (alcoholic and non), group Q&A, gossip, fun and plenty of personal time to talk and hang out with Nancy in the penthouse suite for pictures and autographs.
These events are kept small to ensure a more personal event. Space is limited!
Sorry, no refunds! If you have any questions, email NancyLeeGrahnEvents@gmail.com
If you would like to pay by check or money order, email NancyLeeGrahnEvents@gmail.com to reserve your ticket and for the mailing address. Please note, the address has changed. Do not send payment to any old addresses you might have from a previous event. You MUST email for the new address to ensure payment is received.
If you would like to pay by PayPal, there is a $5 service fee per ticket. To pay by PayPal, click "Buy Now" below. If you are buying multiple tickets, please email the names of each ticket holder.