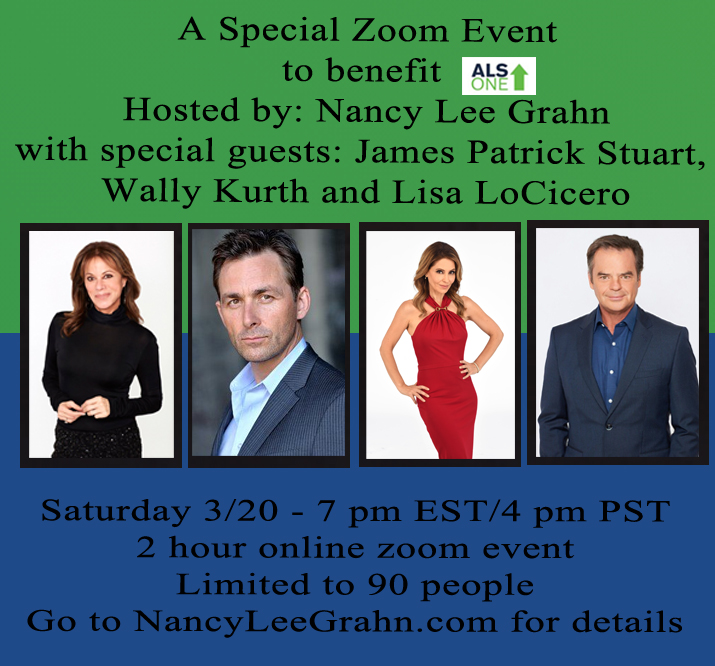 Join Nancy as she hosts a very special 2 hour Zoom event right from your home computer, tablet or phone with special guests: James Patrick Stuart, Lisa LoCicero and Wally Kurth benefiting ALS ONE. ALS ONE has ONE GOAL: To identify a breakthrough treatment and ultimate cure for ALS while improving the care now for those battling it.

Saturday 3/20 – 7 pm EST/4 pm PST
$100 per person + $5 fee if using PayPal – Money orders are also accepted, please send an email to Nancyleegrahnevents@gmail.com for mailing information.
Limited to 90 people
This event will be different from our other past interactive events. A few weeks before the event you will receive an email to submit questions for Nancy, James, Lisa and Wally. They will answer the questions submitted during the zoom event. You can also ask questions in the chat window during the event. So that everyone can hear, we will ask that all attendees to remain on mute throughout the event.
You will receive an email the day before with the zoom link and password.
If you need assistance with Zoom or have other questions regarding the virtual event, please email Belinda at Nancyleegrahnevents@gmail.com
Absolutely no video or sound recording of any kind! No refunds.
Click "Buy Now" to purchase via PayPal